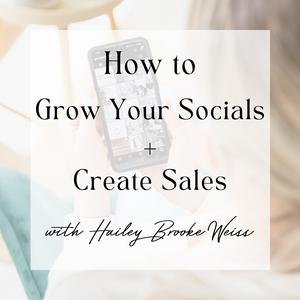 Now more than ever, social media is a crucial tool for businesses to connect with their customers, build brand awareness, and generate sales. However, navigating the ever-changing social media landscape can be a daunting task, especially for businesses without a dedicated marketing team.
Join us on Friday, March 31st from 9 to 10:15 am PST for a comprehensive webinar on how to grow your business' social and create sales online.
Hailey Brooke Weiss, owner and founder of Power Move Marketing, will share proven strategies for growing your social media following, creating engaging content, and converting followers into customers in 2023.
Whether you're a small business owner or a marketing professional looking to stay ahead of the curve, this webinar will provide valuable insights and actionable tips to help you achieve your marketing goals.
Key Takeaways:
Understand what's actually going on with social media in 2023
Learn how to create a social media strategy that aligns with your business goals in 2023 and beyond
Discover best practices for creating engaging content and growing your audience that actually works
Get tips on how to convert followers into customers and increase sales through social media
Explore the latest trends and tools in social media marketing
Interactive Q&A includes getting real help for your business
Don't miss this opportunity to gain valuable insights from Hailey Brooke Weiss and take your social media marketing to the next level.
Spots are limited so register now and secure your spot!
Once you have registered, you will receive an email prior to the event with the link to access the webinar. 
If you cannot make it to the live webinar, you can still sign up and a recording will be sent to you!