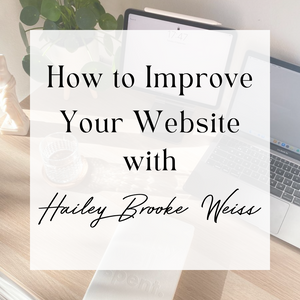 Designing and maintaining a website can be a discouraging task, but it doesn't have to be. With a few simple tips, you can enhance your website's user experience, SEO visibility, and overall performance.
Join us on Friday, May 5th at 11 am EST for a comprehensive webinar on how to improve your website.
Hailey Brooke Weiss, owner and founder of Power Move Marketing, will share essential strategies that you can use to improve your website as well as take it to the next level.
Key Takeaways:
Website Design:

We will explore the best practices of website design including responsive design, typography, color schemes, and layout.

User Experience:

We will go over effective ways to enhance user experience, such as intuitive navigation, fast loading speed, and easy-to-find information.

Content Creation:

We will discuss how to create engaging content that drives traffic to your website.

Search Engine Optimization (SEO):

We will cover basic SEO techniques that you can use to increase your websites ranking.

Analytics and Monitoring:

We will explore how to track and measure your website's performance using analytics tools.
Don't miss this opportunity to gain helpful insights from Hailey Brooke Weiss and discover the techniques that will help you create a website that stands out from the crowd.
Spots are limited, so make sure to register now and secure your spot!
Once you have registered, you will receive an email prior to the event with the link to access the webinar.
If you cannot make it to the live webinar, you can still sign up and a recording will be sent to you!